At Mountain View Baptist Church, we have a place for everyone.
NURSERY
Our nursery is provided for every service, offering quality care to all children newborn through 4 years old. While you learn from God's Word and enjoy the services, your little ones can sleep, play, hear stories, or even learn songs in a loving and safe environment. We always have two qualified staff members in the nursery for each service. Our caring nursery staff looks forward to welcoming you and your children.
CHILDREN
But Jesus said, Suffer little children, and forbid them not, to come unto me: for of such is the kingdom of heaven. Matthew 19:14
Children are the hope of our future. At Mountain View Baptist Church, we enjoy the privilege to teach andtrain our young people in the ways of the Lord. Sunday school classes begin at 10 AM each Sunday morning, and there are classes for three age groups.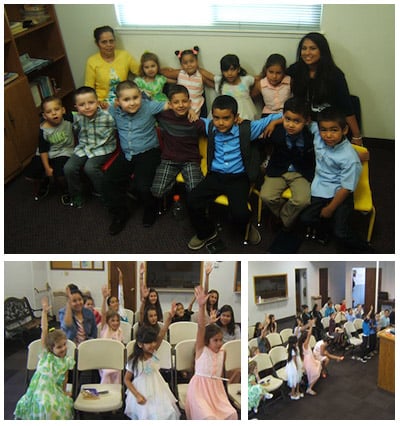 You're never too young to begin learning about our Savior. After Sunday school, all children ages 4 – 12 can be a part of our exciting Children's Church at 11 AM every Sunday morning.
4 – 5 year olds
6 – 8 year olds
9 – 12 year olds
Patch Club meets every Thursday night at 7 PM for children ages 4 - 12. The kids learn Bible songs, memorize Scripture, hear missionary stories, enjoy craft time and snacks, and hear a helpful Bible lesson.
VBS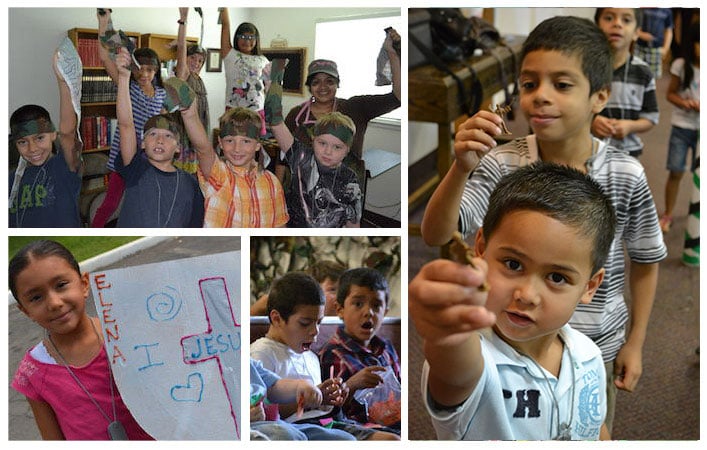 Every summer, our loving church family hosts a great kids activity we call Vacation Bible School. The fun lasts for three days as kids from across the city come to our church for a fantastic experience including Bible lessons, Scripture memory, contests, prizes, crafts, games, and snacks!
TEENS
Our youth group provides a great place for our teenagers to grow in the Lord, develop good friendships, and experience fellowship within the right environment. It's a place where the Word of God is preached, and young people are encouraged to love God and His Word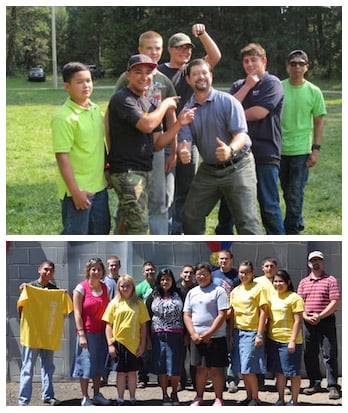 while pursuing God's plan for their lives. Let's admit it – sometimes being a teenager isn't easy, and the wrong peer-pressure abounds. The MVBC youth group meets every Sunday morning at 10 AM for an hour of fellowship, teaching, and fun. Our teens are a special group of young people who desire to live for the Lord, and serve Him with their lives. Throughout the year there are multiple opportunities to join in and have a great time at teen activities, fundraisers, teen camp, youth rallies, and more.
SHUTTLE MINISTRY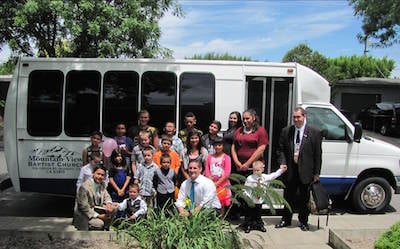 Do you need a ride to church? Each week our shuttle picks up children, teens, and adults, enabling them to attend our services. We are grateful for the opportunity to be in the neighborhoods of our city, telling children of God's love and providing them a way to attend church each week.
DISCIPLESHIP/BIBLE STUDIES
"But grow in grace, and in the knowledge of our Lord and Saviour Jesus Christ…"
II Peter 3:18a
Our church provides some great tools for those who desire to grow spiritually. These classes allow our members to learn more about God's Word, become grounded in their faith, and learn to live out their faith on a daily basis.
Faith Bible Institute
Studying the Bible, book by book
Tuesday – 6:00 PM
Basic Bible Believers Class
Become grounded in your faith
Wednesday – 6:30 PM
Spiritual Warfare Class
Fighting the devil and claiming Christ's victory
Saturday – 12:00 PM
OUTREACH MINISTRIES
Mountain View Baptist Church conducts weekly services at Casa de Modesto and Marple Manor, two local retirement communities.
We also conduct services at the Stanislaus County Juvenile Correctional Facility every first and fifth Sundays, every month.